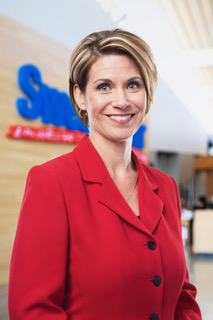 Heather Herron joined the Sweetwater team in May of 2018. Prior to that, Heather spent 17 years as the evening anchor at Fort Wayne's CBS affiliate, WANE-TV. Her broadcasting career began in 1990 and she worked at several radio and television stations in Indiana and Michigan as a reporter, producer, and news anchor.
She holds a B.S. in Telecommunications from Ball State University. Her work as a journalist has resulted in several awards, including a Regional Emmy. Heather's role at Sweetwater capitalizes on her extensive knowledge of media and public relations. She works closely with other members of the Executive Team to showcase the growth of Sweetwater, improve community involvement and engagement, and continue the philanthropic work of Sweetwater and Chuck & Lisa Surack.
Heather has been involved in numerous non-profit agencies. She's a board member for Girl Scouts of Northern Indiana-Michiana and the AWS Foundation, and is an active volunteer for the local chapter of the Juvenile Diabetes Research Foundation (JDRF).