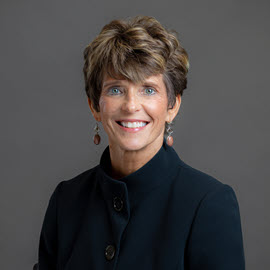 Sherry serves as the Vice President for Strategic Initiatives at Ambassador Enterprises and is the strategic leader of the community impact investment team.  The community impact team collaborates with strategic partners to improve quality of life and invests in initiatives that make for strong communities throughout northeast Indiana.
She served as an educator in Indiana for over 30 years in rural, suburban, and urban settings before joining the AE team in December of 2020. Sherry has diverse leadership experiences as a classroom teacher, principal, assistant superintendent for curriculum and instruction (K-12) and superintendent of schools.  As the strategic leader for community impact investing, these personal and professional experiences align well with pursuing the team's purpose of building better community.
Sherry's professional education includes an Education Doctoral Degree & Education Specialist Degree from Ball State University, a Master of Science in Education from IUPUI, and a Bachelor of Science in Education from Indiana University.  She currently serves as a board member for the Doden Legacy Trust, Revive Home Brands, Olin B. & Desta Schwab Foundation, and the YMCA of DeKalb County.
She is passionate about continuous personal growth and enjoys coaching and inspiring others in leadership development.  Sherry is a graduate of the Ambassador Institute of Civic Engagement and Richard G. Lugar Excellence in Public Service Series and is actively engaged with The Policy Circle.